Bascom Genealogy Books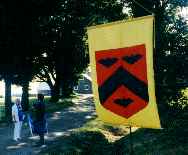 The most notable works are
Thomas Bascom and His Descendants
by Edward Doubleday Harris, 1870 and
Bascom and Allied Families
, compiled by Mrs. Joseph Dayton Bascom, 1932. The Bascom Reunion Association offers re-typed photocopies of these books which are no longer published.
Thomas Bascom and His Descendants is the best genealogy for tracing the name in America. We estimate 99% of Bascoms in the United States have descended from Thomas Bascom, who arrived in America around 1630. This book contains a nearly complete genealogy of the Bascom name in America up to the year of its publication in 1870. Available for $9.00.
Bascom and Allied Families is a very rare book and we have never seen an original. The Reunion Association has aquired a photocopy and has retyped the book. (If anyone has an original copy please email me!) This book traces the Bascom name through France and England starting from the 1400's. It contains the original wills and church records of the early family, but as such it is technical and difficult to read in some sections. If you have traced your Bascom line to Thomas Bascom in the above book, you can continue tracing your lineage to the early 1400's with this book. Available for $7.00.
Send checks made out to "The Bascom Reunion Association" to the address below. Please add $4.50 shipping for one book or $6.00 for two books anywhere within the United States. Other areas please email us for pricing.
Crystal Bascom
ATTN: Bascom Reunion Association
128 Duncan Rd
Alstead, NH 03602
For more information about ordering books, email the treasurer: Crystal Bascom
For questions about the content of the books or more information about Bascom genealogy, email the genealogist: Brad Bascom