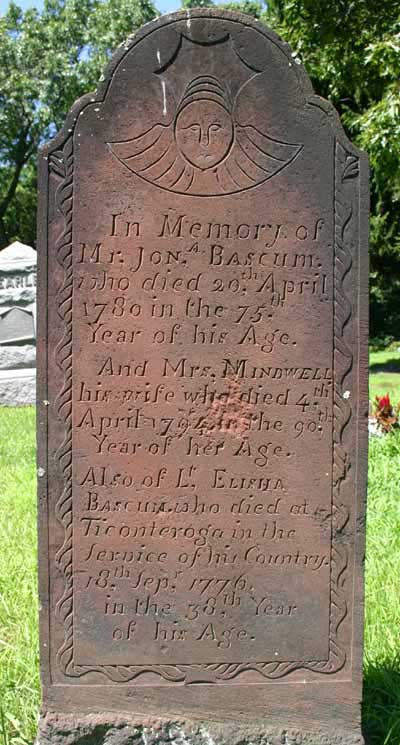 I have also collected numerous Bascom gravestone photos over the years, and cousins have submitted several via email. I have far more than I can post on the web site, but on this page I've shown some of the very oldest Bascom graves.
Carved stones were not commonly used until the mid-1700s. In fact, very few graves from the 1600s can be found in all of New England. In the 1600s graves were typically marked with a wooden cross or unlabeled stone, and therefore most of the early grave sites have been lost.
Although we know the first three generations of Bascoms (Thomas I, Thomas II, Thomas III) were recorded as having died in Northampton, the grave locations are are not known. It is not likely that gravestones marked these early graves. However, from the fourth generation of Bascoms onward there are many gravestones.
In Southampton we have this first gravestone, of Jonathan Bascom, his wife Mindwell King, and son Elisha who died in the Revolution.
Jonathon was the son of Thomas Bascom III, thus the fourth generation Bascom in America.