Thomas Bascom the American Immigrant
Thomas was born about 1602 and emigrated from England around 1634. It had been long thought that he came to America on the ship "Mary and John", along with many of the early settlers of Windsor Connecticut. A more recent discovery of the passenger "Thomas Biscomb" on the "Recovery" has put this in doubt. See the passenger list of the Recovery.
Most of the town histories claim he first settled in Dorchester, Massachusetts among the other early settlers. But he very soon moved to Windsor, Connecticut. The following image is a piece of the map of Ancient Windsor, as found in the book, The memorial history of Hartford County, Connecticut, 1633-1884. The lot for "Bascombe" has been highlighted. For the full map, see page 501 of The History of Hartford County at the Internet Archive library.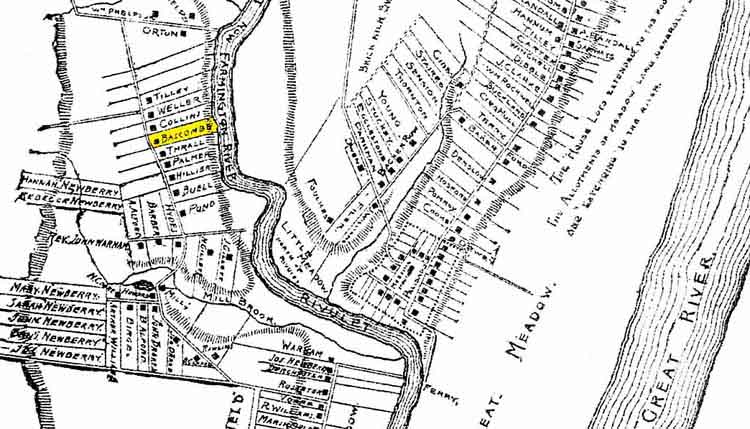 In 1655 Thomas Bascom and his wife Avis settled in Northampton, MA where they was among the first settlers of that town. Soon after he arrived Thomas was appointed commissioner to end small causes and is later referred to often in the Northampton town records as "Constable Bascom".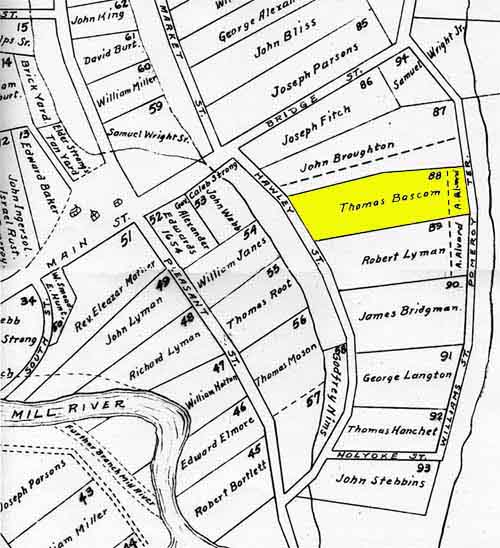 Thomas Bascom married a woman with the Christian name Avis and had one son, Thomas Jr., and three daughters. Thomas is mentioned numerous times in James Trumbull's history of the town published in 1902. Trumbull's, History of Northampton is available to read at Google Books.
Trumbull used the land records of Northampton to construct a map of house lots of the early settlers. A portion of Trubull's map is shown here. Note Thomas Bascom has neighbors John Broughton and Robert Lyman. These were both son-in-laws. Thomas' daughters Hannah and Hepzibah married John and Robert, respectively.
From Thomas' time forward, we have a considerable amount of material compiled on the Bascom descendants. Over the years various branches of the family have compiled their own genealogies. The most notable works are "Thomas Bascom and His Descendants" by Edward Doubleday Harris, 1870. "Bascom and Allied Families", compiled by Mrs. Joseph Dayton Bascom, 1932, and "A History of the Battiscombe and Bascom Families" by G. B. Barrow, 1976. These published materials have been greatly supplemented by the works of Lelia Bascom of Wisconsin, 1949, correspondences of the Bascom Reunion Association, and additions submitted via email through this web site.

The Origin of the Bascom name
Tracing the ancestry of Thomas Bascom and the roots of the Bascom name is difficult. The two most popular theories are that Thomas was descended either from a branch of the Battiscombe families of England or from a line of French Huguenots bearing the Bascom name. If the latter theory is true, it would indicate that the origins of the Bascom name extend at least as far back as to Gilbert Bascom, who married Jehanne de Mons in France in the year 1410.
Mrs. Joseph Dayton Bascom's book "Bascom and Allied Families" states,
"The name Bascom, as we shall see, does not, in fact, occur in England prior to the year 1540. The name Bascom occurs as early as in the year 1383, and then of Bearn, one of the early provinces of France, on the boundary to Spain, adjoining the Spanish Bisquay and Navarre, where the Basques had their principle domicile. As always in Latin documents names were written without initial capitals, and it is, therefore, somewhat difficult to decide if the name baskom was not, after all, merely an abbreviated form of basque' homme, a Basque and not used as a surname."
Thomas Bascom's Will
Thomas Bascom's will, as recorded in the Probate Office at Northampton, is as follows:
"I, Thomas Bascom, Sen., of Northampton, being of perfect memory and understanding, and at p'sent enjoying a competent measure of health, although I have lived to old age yet knowing not the day of my death, do therefore in preparation to my Last change Doe make and constitute this my Last will and testament which is as followeth.
" And as respecting my eternal estate, I know my redeemer Liveth and that he shal stand at the Latter day on the Earth and wil change my vile body and make it like his glorious body.
" And as touching my body when it is removed out of this earthly tabernacle that It be decently buried.
" And as touching those outward blessings with the Lord of his mercy hath bestowed on me, I dispose of them in this manner as followeth.
"Imprimis, My Wil is that my son Thomas doe out of my Estate pay al my just debts and funeral expences. And I doe hereby give and bequeath to my son Thomas al my Lands of al Sorts together with my house, orchard and barn to be to him and to his dispose forever; Also I give to him my Cart wheels, plough, chaines and al
other husbandry implements and Mason tools and my great brass Kettle and al my wearing apparel, onely my Wil is that my Son William Janes shall have my cloth suite and my Son Robert Lyman my Searge coate, and the remainder of my wearing apparel I doe hereby give to my Son Thomas Bascom ;
" And that as for the remainder of my Estate my Wil is that my just debts being paid out of it, that it being prized it shall equally be divided between my Children, viz. my Son Thomas Bascom, Hannah Janes and Hepzibah Limon.
" And I doe hereby make and ordain my Son Thomas Bascom to be ful and sole Executor of this my Wil and doe intreate and request my wel beloved and trusty friends Deacon William Holten and Deacon Medad Pumry to be my Overseers of this my Last Wil and Testament and doe hereby declare that any former wils of mine are hereby
made voide and this only to stand in force, in witnesse whereof I have hereunto set my hand and seal the eigth day of July in the year of our Lord one thousand Six hundred seventie and nine.


[Signed] Thomas Bascom.
witnessed by Medad Pumry and Joseph Parsons, Jr."