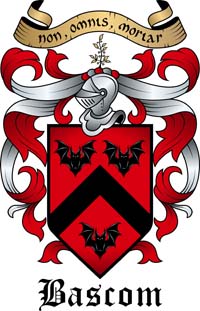 BASCOM REUNION - SATURDAY JULY 30, 2016
An invitation from our hosts Dan and Kim Bascom:
( A printer friendly Acrobat PDF version of this letter is available here )
Kim and I cordially invite you to attend our triennial Bascom Reunion on Saturday, July 30th at our home on 123 Franklin St., Rochester, NH. We are looking forward to meeting each and every one of you and hope you will enjoy our home and gardens. I have been working on sprucing up the yard since March raking, edging, mulching, cutting and pruning, building 2 new raised gardens and will be planting the flower beds and vegetable garden soon. The 30 baby chicks are growing fast and sheep are now out to pasture. We hope you will enjoy our little piece of heaven. Remember "one is closer to God in a garden than anywhere else on Earth."
I have booked a local Masonic group for the chicken BBQ. The menu is BBQ chicken, potato salad, cole slaw, corn on the cob, roll and drink. The kids menu includes hot dog, potato salad, cole slaw, corn on the cob, chips, and drink. Dessert will be provided by the association. See enclosed order form. All meals must be paid for in advance. If you so desire you may bring your own picnic lunch. Many restaurants/food options are close by.
Activities will include children games, coloring contest, volley ball, 50/50 raffle, silent auction, corn hole games (bean bag toss), self-guided tours of our gardens and time just to catch up with everyone.
Please don't forget the memorial table, remembering those who have passed away since the last reunion. Photos and mementos are a great way for us to remember our loved ones.
The silent auction is our main fund raiser. So please bring something for the silent auction, items can be handmade or something to represent the area you hail from and don't forget kid items as well. Up to ten of the larger ticket items will be auctioned off live to add a little spice to the auction. Matthew Bascom will once again be offering his unique talent as auctioneer. While the silent auction is being tabulated we will have ice cream.
The Bascom genealogy:
Brad Bascom and Susie Szynalski have continued their search through census records, newspaper archives, and Internet sites such as Ancestry, Find-A-Grave, and Genealogy Bank to expand the Bascom genealogy. A wall chart showing 14 generations of Bascoms (over 6,200 names) will be on display. Brad will have a laptop at the genealogy table to assist folks with research. There will be a display of photos from past reunions, and of other famous Bascoms. We encourage you to bring old photos, and genealogy updates either on paper or on computer thumb-drives. If you would like to check out the latest genealogy, visit the web site BascomGenealogy.com, or find us on Facebook by searching searching for "Bascom Reunion Association".
Sunday, July 31st will be "Bascom Sunday" at the Rochester Grange Hall at 21 Charles St., Rochester and the time will be announced Saturday. Rev. Stephen Bascom will coordinate the service with the help of many others.
Please return the order/reservation form by July 15th.
Also, volunteers are still needed to help with various things throughout the day! If able to help, please email Becky, Crystal or Dan. Thanks!
Please don't forget you have to register and the fee is $2.00/person OR $5.00/family which helps with increasing costs of rentals, meals, etc. You may either include this with your payment for the meal or pay it at the reunion registration. We will be accepting credit card payment this year for both registration and silent auction payments. Just remember it costs us to process all credit card payments so adding a little extra will help.
Come and enjoy a special time with family, renew old acquaintances and build new ones.
Sincerely,
Dan Bascom, President Bill Bascom, Vice President
Bascom Reunion Association 11 Bellic St
123 Franklin St. Claremont, NH 03743
Rochester, NH 03867 bascomwd@yahoo.com
(603) 332-2164
Cell; (603) 767-6613
kdbascom@aol.com
Becky (Bascom) Dechir, Secretary Crystal Bascom, Treasurer
32 Ann Avenue 128 Duncan Road
Charlestown, NH 03603 Alstead, NH 03602
bascomsec@yahoo.com crbascom@yahoo.com
Brad Bascom, Genealogist,
Brad@BascomGenealogy.com
Directions: 123 Franklin St., Rochester, NH is a good GPS address and goes thru Rochester Cemetery. From South Main St. (rte. 108) turn across from Care Pharmacy (at traffic light) and we are 1 mile up on the right. We will have signs there directing you. If problems please call (603) 767-6613.

SCHEDULE
8:00 am - Set Up
9:00 am - Registration, pick up meal tickets, check mailing address & email address
Coffee & donuts, check out genealogy information. Setting up silent auction. Self-guided tours.
There will be ongoing games for the kids as well as face painting.
10:00 am – Get reacquainted time

11:00 am – Welcome by Hosts – Dan & Kim Bascom
Introductions
Memorial Service - Rev. Stephen E. Bascom
11:45 am – Group Photo
12: noon – Grace – Rev. Stephen E. Bascom, Lunch: BBQ chicken and hot dogs
Continue bidding on silent auction
1:30 pm – Children Activities, Balloon making, face painting, corn hole competition
1:30 pm – Business Meeting
Reports, old business, new business, election, next reunion 2019, church
service info
2:30 pm – CLOSE SILENT AUCTION & Serve Ice Cream with real Bascom Maple Syrup
3:00 pm – Announce Silent Auction results and Live Auction of big ticket items
Sunday Church Service
Time to be Determined – Rochester Grange Hall, July 31, 2016. Bascom Choir, Bascom Preacher
Lodging Information
ROCHESTER:
1) Holiday Inn Express, Rte 11, 603-994-1175
2) Anchorage Inn Motel on Spaulding, 603-332-3350

DOVER: (about 10 miles)
1) Hampton Inn, 603-516-5600

2) Comfort Inn, 603-750-7507

3) Homewood Suite, 603-516-0929

Lebanon, MAINE: (3 miles)
Flatrock Ridge, 207-339-9580
Campgrounds
Grandview Campgound, 603-332-1263
---

There is a facebook page for the Bascom Reunion Association which includes over 100 reunion photos from past reunions from the early 1980s to the most recent reunion in 2010. For the curious, you may view a list of past reunions to see where they were held. To find us on facebook, search "Bascom Reunion" or follow this link to the Bascom Reunion Association page.

If you are unfamiliar with history of the Bascoms be sure to check out the other pages on this web site, including those for our immigrant ancestor Thomas Bascom, some Famous Bascoms, our coat of arms, and some extended Bascom family trivia. If you are doing family research, start with the Online Bascom Genealogy, and also see the links to the digitized books available.
---

Order/Reservation Forms
All cookbooks, & lunch may be paid on one check, payable to either:
Crystal Bascom or Bascom Reunion
Please mail form/payment to: Rebecca Dechir, 32 Ann Avenue, Charlestown, NH, 03603
LUNCH RESERVATION - DUE NO LATER THAN JULY 15, 2016
Meal includes the following: BBQ Chicken, Potato Salad, Cole Slaw, Corn on the cob, Roll and Soda/Water. Children: Hot Dog w/bun, Potato Salad, Cole Slaw, Corn on the Cob, Chips, Soda/Water and will have a juice option as well.
Please mark the number of adult and/or kids meals that you are ordering.
ADULT ($10.00/each) CHILDREN 10 & Under ($5.00/each)
TOTAL NUMBER OF MEALS: TOTAL AMOUNT:
Name and address: